John Youngman
Tamborine Mountain Bridge Club, QLD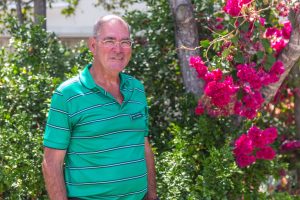 The necessity of attracting new players to his bridge club was the motivation for John Youngman to gain his accreditation as a bridge teacher.
"Tamborine Mountain is a small club located in a growing area," John said.
"We built our premises one year ago and we now have the opportunity for more players and more sessions. To do this, we need to attract new players and they will require teachers.
"I have always played with experienced players who are willing to share their knowledge and wisdom which adds to your enjoyment of the game. It is rewarding to see new players being stimulated by the game and I enjoy helping them make the transition from students to players."
John also highlighted the fellowship with kindred spirits and opportunity to stimulate deteriorating grey matter as some of the things he likes most about playing bridge.
"If I can't manage the physical aspects of life, bridge will always be there," John said.
When not playing or teaching bridge at the Tamborine Mountain club, John's life revolves around his family, friends, travel, golf, gardening, tennis, folk and bluegrass music festivals and camping.
Fortunately, John's wife shares his passion for golf, bridge and gardening meaning they can spend plenty of time together on their common interests.