Trish Thatcher – Port Stephens Bridge Club, NSW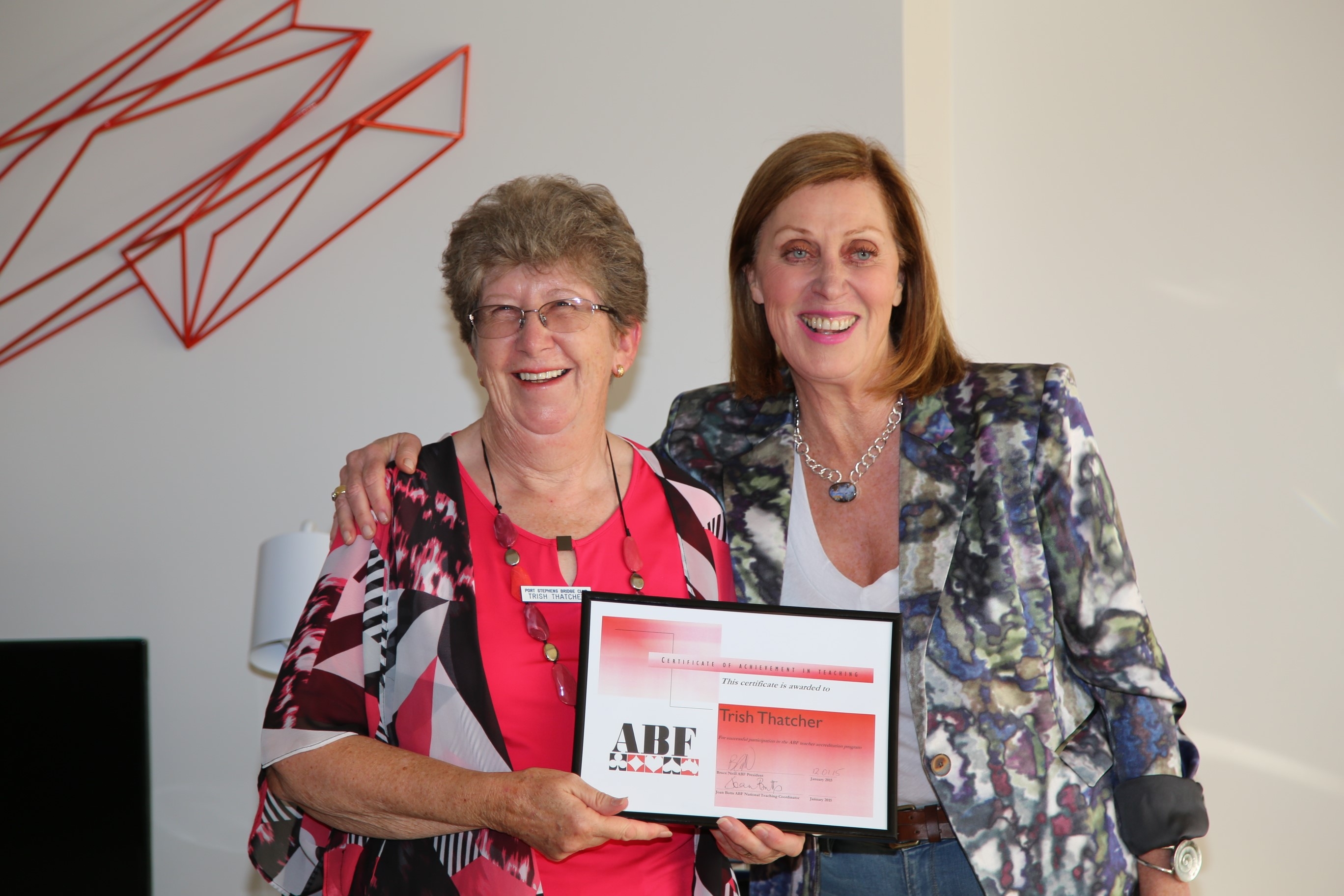 My husband, Jim, and I had always been keen card players, especially Solo. When my father became ill, in the early 1990's, my mother took Bridge lessons at the Bathurst Bridge Club. She had always wanted to play, but my father felt that Bridge was a game for rich society people only. Mum loved it from the start, and every time I visited them over the next few years, she, a Beginner well into her 70's, but a very clever school teacher, gave me lessons on the basics. I was still working full-time, but I passed her information on to Jim, and, in 1996, we had the opportunity to play in one of our local Hawks Nest Bridge Club games. We had never seen a bidding sheet, had no idea how to score, were terribly slow, but did quite well, and became "hooked". HNBC was a non-affiliated Club at that time, so we joined Bathurst (our original home town, 400 K's away), and immediately started playing in Congresses (we had no fear – ignorance is bliss!), did a Bridge Holiday with Ron Klinger, purchased lots of Bridge books, and tried to learn "everything". What we learnt was how much more we had to learn, and we are still learning.
We "pushed" HNBC to become affiliated, as we wanted other members to have the opportunity to participate in the events that we were enjoying so much, but discovered that not all Bridge players want to do this, many merely wanting a cheap social day out with their friends once or twice a week.In 2008, we joined Port Stephens Bridge Club at Nelson Bay, as we wanted to improve by playing against more experienced players. I was asked if I would teach some Beginners' classes, as the existing teacher wanted a break. While flattered, I did not know where to start or what to do. I asked if there was a course I could do to get any training, and was referred to Greg Quittner's examination, which I passed, and was told that I could now teach. I joined the Bridge Teachers' Association, but that was it. I did not want to spend a lot of lesson time writing examples of hands on a whiteboard, so PSBC bought an old overhead projector, the President prepared slides based on Paul Marston's "Introduction to Bridge", we advertised for students, and off I went. The first hour was based on a chapter of Paul's book, which all students purchased, and the second hour was spent playing the four hands at the end of the chapter. These hands were all prepared manually by me before the lesson. I have always tried to make lessons "fun", with anecdotes of my own and experts' disasters, stressing that making mistakes is normal, and part of the experience of the game. I emphasize the importance of the partner relationship and understanding, and that players should be prepared, and be allowed, to play with many partners, not just one.In 2012, I joined a colleague conducting Bridge on a Cruise Ship. He Directed the games, and I gave the Lessons. For the first time, I had to prepare Intermediate-level lessons. This was a major growth period for me. I spent weeks on research on suitable topics, then had to prepare and print them. I also had to completely re-write my Beginners' lessons. This was an opportunity to change a lot of the material, as I wanted to vary the content format and incorporate some other ideas. I now use all this as my basic core material.
When Joan Butts introduced the Bridge Teacher Accreditation Program, I saw this as a way to not only improve what I was doing, but to also get official recognition for what I have been doing. I have enjoyed being part of this Program, and the people I have met while doing it.
I am finding her ideas on modern bidding and recommended topics for Intermediate lessons just what I have been looking for to incorporate into my lessons.