Carol Sheldrake
Hunters Hill Bridge Club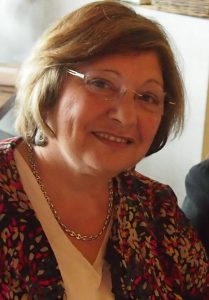 I come from a family of bridge players. My father played rubber bridge with friends every week at our house so I grew up with playing bridge being part of my life. I don't think I ever really had lessons, just read the Goren bridge book and then began playing rubber with friends as a fun past-time and watched with amazement as my sister became hooked on this thing called duplicate bridge.
We then moved around regional NSW and 10 years ago moved back to Sydney. A friend suggested having bridge lessons and joining a bridge club. I loved the challenge of playing bridge, and also the great involvement our local club offered. I joined the Hunters Hill Bridge Club Committee and through that involvement convened the Teams congress for a few years as well as taking on other roles including masterpoints secretary in the Club. I am currently the Club's Vice President.
I have a long background in teaching at both TAFE and in universities and really enjoy teaching. I love the challenge that teaching offers, and the enjoyment of seeing students succeed. Our Club was looking to run beginner lessons to increase our membership base and as I had retired it seemed a good option for me to offer to complete the teacher accreditation so we could run the beginner lessons ourselves. I enjoyed the interactive model of teaching and the ABF course followed that style of facilitation so I joined the program.
Bridge is a great game, offering mental stimulation and enjoyment in a competitive environment. It constantly challenges you to improve yet still can baffle you with an unusual hand. As a club member it also offers a social occasion and a great way to interact with people of all ages and interests. It can be enjoyed at all levels and offers a convivial form of entertainment and also a caring environment for members.
It has been great as a teacher to see students moving from the lessons to joining our regular bridge sessions. I am hoping to facilitate more beginner lessons in the future, and create a pathway through supervise play sessions and improver lessons to then facilitate students to have the confidence to join the regular bridge sessions at the club if they wish. It is rewarding to see them enjoy the challenges and satisfaction that bridge offers as well as the new friendships that are created through the lessons and being part of the club.