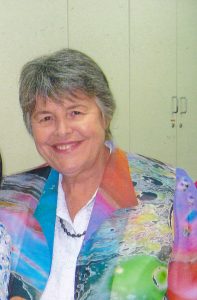 Jill MacRae
Illawarra Bridge Association, Figtree NSW
Jill MacRae grew up hearing stories of her father playing bridge, but it wasn't until her university years that she started to play the game that she now teaches.
"My Dad told stories of playing bridge in the shade of a Beaufighter wing, waiting for the call, during WWII. We played cards regularly as teenagers, but never bridge. One night, when I was attending night lectures at university, I happened to be standing in the carpark with my lecturer. I shyly engaged in conversation and he said he was waiting to be picked up to go to bridge and if his ride didn't hurry he would be late. I immediately pricked up my ears and decided to find out more next Monday in class. I attended lessons and then played regularly once a week, gradually becoming more involved with the club and the people, while playing this most enjoyable and stimulating game."
Upon retirement, Jill began providing supervised sessions at her club to attract new players and more importantly keep them playing.
"In my experience there had been a large gap between the knowledge gained at introductory lessons and skills needed to play confidently in a competitive situation. We set up a small team and now run weekly sessions with 1-hour lesson followed by supervised play. We also hold daytime introductory lessons once a year and night lessons later in the year."
The weekly sessions at the Illawarra Bridge Club have paid off with the club nearly having to turn away a player at a recent HI-LO session due to a full house. But Jill claims she has also continued to learn more than any of her students during her teaching.
"Teachers, by their very nature, bathe in reflected glory, and to see the large number of players who have attended our supervised sessions now playing regularly in competitive sessions, is the greatest joy.
"I have learnt more than any of my students during this time. The mechanics of selecting and dealing boards is just one.
"Teaching people who want to learn is the best situation. Passing on the passion is something I have always done. I aim to provide enough knowledge, to interested people, so that they too can develop the deep satisfaction of "knowing"."