Nena Reid
Yarra Valley Bridge Club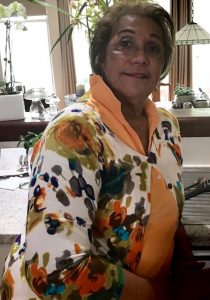 How did you discover bridge and begin teaching?
Years ago when my husband and I were living abroad, some expat friends of ours were short of a bridge player so I got roped in to play. I grew up in a family who played several card games such as Poker, Gin Rummy, Solo, Five Hundred etc so I was familiar with cards. However, nothing as challenging as learning to play bridge. I was instantly hooked and resolved to learn more about this fascinating game of Bridge! This was about 32 years ago.
We returned from overseas 21 years ago, and my background in nursing got me back to working in the health industry in Aged & Disability. I started volunteering for the Royal Children's Hospital in the Starlight Foundation for a few years. However, the traffic was too much so I was keen to find something to volunteer for closer to my work and home.
Not long afterwards a friend who was a member of Manningham U3A approached me to say that their Bridge teacher was retiring and there was no one to continue the class. I put my hand up and then as the day went by I went into panic mode and wondered where to start…
I was given lots and lots of notes, folders and more folders piled up to at least a chair high. Though overwhelmed with the new task in front of me, I thought if I can deal with challenging patients on a daily basis this is really nothing to worry about!
My first intake of students were so keen to learn and I made my teaching methods very simple to exactly how I learnt bridge, plus some help from other very experienced players. I was on my way to enjoying this adventure of teaching bridge!!
I find the most enjoyable aspect of teaching bridge is knowing that people are exercising their minds, which is just as important as their bodies! Some of my students having discovered Bridge, no longer go to the Pokies.
Tell us something most people won't know about you?
While living in Bangkok I attended a Bridge Fundraising Tournament for the Red Cross, where the host of the event was none other than the heart throb actor Omar Sharif (aka Dr Zhivago). He stood behind me when I was about to take my partner to a Grand Slam in 7NT… I wished they had cell phones in those days so Omar and I could have had a selfie together!!