Teacher Training Teacher Profiles Learn Stay In Touch

ABF Teacher Trainers
Joan Butts – National Teaching Coordinator
Joan Butts is the Australian Bridge Federation's National Teaching Coordinator. In this role, she trains teachers and bridge players all over Australia.
Joan began playing bridge when she was 25 and has represented Australian in world championships. Her passion is bridge education. She has taught thousands of people how to play, at the bridge club she has owned for 25 years and all over the world.
She has written four books and plans to write more. She is also busy developing lessons and resources, both online and in person, to help more people discover bridge and improve their skills.
In her role as National Teaching Coordinator, Joan conducts the Teacher Training Program and Continuing Professional Development Days.
Cath Whiddon – Teacher Trainer
Cath Whiddon is the ABF's first Teacher Trainer. Cath has been playing bridge since her university days and has been teaching bridge since 2010. Her initial eight-week beginners' course for six students at the Peninsula Bridge Club has evolved into the Peninsula Bridge Education Program which in 2013 celebrated its 100th member completing the program.
Apart from her role as the Director of Bridge Education at Peninsula, Cath has been the NSWBA bridge education representative for NSW with being the Metro rep for all bridge clubs in Sydney. Cath also works as a bridge teacher and director on a couple of cruises each year.
As a Teacher Trainer, Cath will be runs Teacher Training Program days.
---
ABF Accredited Teachers
Click on a teacher's name to view their profile.
Western Australia
City of Melville Bridge Club
Noel Daniel
Bill Symons
South Perth Bridge Club
Jan Howell
---
Featured Clubs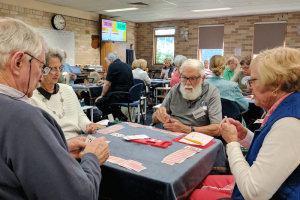 Peninsula Bridge Club is an ABF Accredited Teaching Club that prides itself on its friendly and fun environment. Based at the Nelson Heather Centre in Sydney's northern beaches area, the club has approximately 600 members, a very busy events calendar and a successful education program.
"We are seen as the friendliest, fun bridge club around. Players come early to socialise and stay after a game to review and chat," Peninsula Bridge Club Director of Bridge Education Cath Whiddon said.