The area may be famous for sand, surf and skyscrapers, but since 1982 this month's featured bridge club has been working hard at creating a paradise for bridge players.
Surfers Paradise Bridge Club currently has 620 members and Club President Diann Young says the club's committee and volunteers spend many hours working diligently to create a happy and enjoyable atmosphere for all bridge players.
"One of Club's biggest achievement is the professionalism in which our Congresses are conducted which attracts may players from the South and North Coast. Our Congress convenor, Angels deMarr, has for many years put in countless hours ensuring the success of Congresses held at our club," Diann says.
"The point of difference with The Surfers Paradise Bridge Club is definitely our catering staff. Working in a newly renovated kitchen, they provide delicious sandwiches for all players at each session. The range of food, including vegetarian offerings, for congresses is often commented on. Our members also contribute with cakes, slices and savouries for these congresses."
Surfers Paradise Bridge Club began with 15 founding members on the Isle of Capri. On October 25, 1991 the club's current purpose-built club at Benowa was opened.
The club has a very active education program running year around.
"The philosophy of the Education Committee is that the education of new players is the life-blood of the club," Diann says.
"Without new players signing up for Beginner's lessons and then being encouraged to join the Club, numbers will dwindle, and the Club will die."
With this in mind, the club offers three 12-week Beginners lessons blocks throughout the year. The club attracts up to 20 new players each time the lessons are offered.
"Seamlessly following on from each of the Beginners' sessions are our Intermediate lessons aimed at the student who has just graduated from Beginners' classes. A block of Intermediate classes lasts for 18 weeks."
After that, the lessons begin again, with student encouraged to repeat them multiple times if they feel it necessary.
Barbara Rydon is the Club's Education organiser who runs the club's Tuesday supervised play sessions. Jenny Simmons runs the Saturday morning sessions. Both Barbara and Jenny are well supported at the supervised play sessions, with many of the club's experienced members offering their time and expertise.
"These Tuesday afternoon sessions are so enjoyable that many of the novice players attend as well as playing on Thursday and Saturday in the restricted section," Diann says.
"The restricted section partnership arranger liaises closely with these supervisors to encourage novice players to enter the restricted section by providing suitable partners for them. Once the players commit to the restricted session they are met with a very amenable group of players willing to assist them in every way."
Surfers Paradise also offers one-off lessons tailored to the needs of its members.
"This year we are running a three-week course on 2 over 1 Game Force given by one our experienced members. We have run a workshop on the 'Balancing Seat' and will be offering a workshop on 'Hamilton' later in the year."
Workshops are also offered for the club's stronger players who have been asking for more challenging tuition.
"It is all very well offering lessons for our members bit without good teaching staff we would be in trouble. We have a number of staff who now have their accreditation and a handful of keen trainees who are well on their way to gaining theirs."
Club Spotlight
Club Name: Surfers Paradise Bridge Club
Year Club Established: 1982
Number of Members: 620
Club President: Diann Young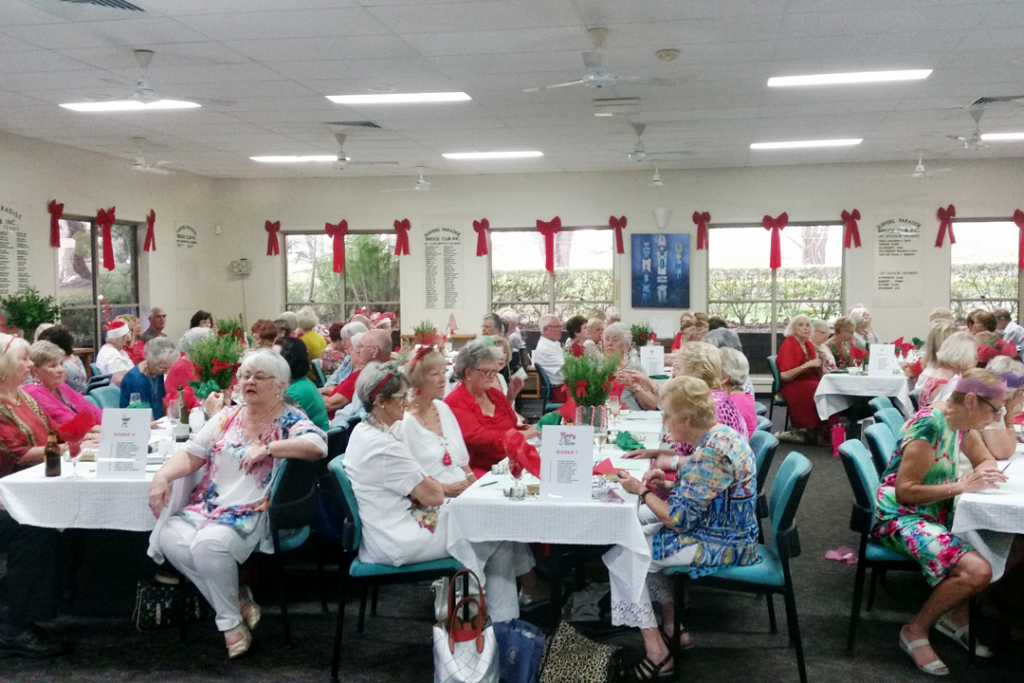 A Christmas Lunch at Surfers Paradise.