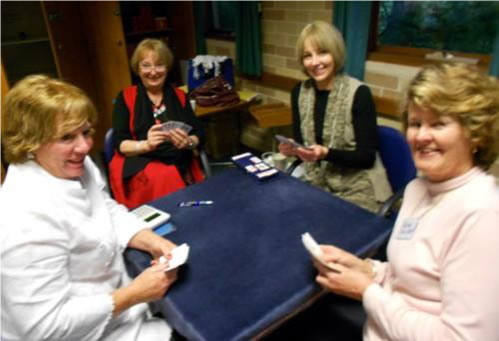 Cath Whiddon is involved with Bridge Education at the Peninsula Bridge Club, and is doing a fantastic job. You might be interested in some of the innovative ideas she is implementing.
She writes
"This is our 3rd year of a comprehensive Bridge Education program at Peninsula Bridge Club.
We have a Bridge Education sub-committee that reports to the Club Committee and makes recommendations and seeks approval for courses.
We started the year with a day & evening Beginners course for 6 weeks. The 2-hour classes cover bidding, play and social etiquette – with a tea break half-way to keep it friendly.
The 26 new players received a free voucher to attend a supervised practise play session at the club after the first few lessons.
We offer 3 supervised sessions (a morning, evening and afternoon), where the new graduates join the previous graduates. Here they are introduced to duplicate bridge and learn about travellers, scoring and moving. All 26 moved on to the supervised sessions. (These new players often encourage the current attendees to move on to a regular duplicate session.)
(No partner is required.)
A Consolidation Course is offered about 6 weeks later. It reviews bidding and leads and focuses on planning play (counting winners and losers) and improving play techniques (such as the finesse) with hands that allow for more competitive bidding (ie overcalls and doubles feature).
In the second-half of the year we repeat the process – any beginners from the previous course who want to go over the basics are welcome to attend for free and help the new beginners with the table etiquette they know already.
We organise special events on the 5th Saturday of any month (& Melbourne Cup, Charity Day & Xmas Party) whereby developing beginners and improvers are matched with (or invite) an experienced (pleasant) club player to compete in a regular duplicate session (a "Pro/Am"). We also schedule "Team of 3" sign-ups with volunteer experienced captains playing 1 round with each member. This introduces team tactics and scoring – and has proven a great way for new players to meet members of our club and mix around.
The aim is to develop speed and confidence so the beginners move into our regular duplicate sessions and join our club (over 50 new members this year).
We also offer a monthly workshop to introduce conventions such as Stayman, Preempts and Blackwood; then run an advanced mini workshop at the end of the month on more detailed aspects for developing improvers. We use the "Cards-on-the-Table" method to take players through the learning process and then we play 4 set hands to practise what we have workshopped – looking at the bidding, opening lead, Declarer's Plan and best defense. The Audrey Grant/ACBL series of structured lessons, teacher notes and training decks are invaluable teaching tools.
This year our "old/original" beginners started playing in our Club competitions and congresses.
We also hosted an inter-club teams and pairs event with different masterpoint categories. Next year, some of these beginners have signed up to play in the Summer Festival of Bridge Novice games & plan to attend the GCC … they love the game and are playing 3 or 4 times a week!