2017 Gold Coast Congress
February 18, 2017

-

February 25, 2017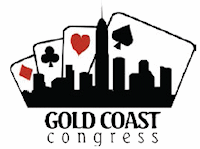 2017 GOLD COAST CONGRESS UPDATE
PLEASE NOTE DATES – SATURDAY 18th FEBRUARY TO SATURDAY 25TH FEBRUARY
A great result for us last year has meant we were able to put money aside for more bridgemates, cards, wallets and uniforms. I need another good year to address the prize money and wages and then I will feel happy to step down knowing the Congress is in good shape.
Next year the entire Gold Coast Convention Centre has been booked out by Microsoft for the week ending Friday 17/2, our traditional starting date. This means we will have to bump in from midnight AT BEST so this will put an enormous strain on our staff and resources. We have tried hard to minimize the effect on you, the players, but there has to be some changes we could not avoid.
CANCELLATION OF FRIDAY NIGHT NO FRILLS WALK IN : – Microsoft will be still in the process of bumping out so there is no way we can hold this. THIS IS FOR 2017 ONLY
2PM START FOR SATURDAY 18/2 All events on Saturday will start an hour later at 2pm NOT 1pm. We will reduce the dinner break to compensate and start as usual at 7.30pm for the night events.
Changes that we are making due to feedback received from you are:
WEEKEND SWISS 0-500 MPS: This will run concurrently with the Open Swiss on Saturday and Sunday. Please spread the word. NEW EVENT
MONDAY BUTLER 0-500 MPS: This will run concurrently with the Open Butler on Monday. Please spread the word. NEW EVENT
SERES MCMAHON SWISS PAIRS: This will be run on Friday 24/2 and will replace both teams events. The same boards will be used as the Ivy Dahler but it will finish 1 round earlier on the Friday to allow people to catch planes if leaving. NEW EVENT
FRIDAY TEAMS & SERES MCMAHON MIXED TEAMS : These are now cancelled and replaced by the Seres McMahon Swiss pairs.
FRIDAY NOVICE PAIRS NOW NOVICE SWISS PAIRS: Due to popular demand and an increase in numbers this will now be run as a Swiss.
THEME FOR 2017 – STARS & STRIPES
These are the main highlights. There are some more changes re length of matches and lunch times etc but we will keep you posted when we have finalised the entry form which hopefully will be published in hard copy in September – electronic version a little earlier.
Thank you all for your input.
Therese Tully
And of course Kim Ellaway
Queensland Bridge Association