2018 Gold Coast Congress
February 16, 2018

-

February 24, 2018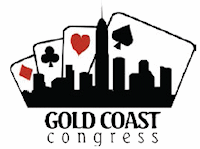 SEPTEMBER UPDATE
COMMONWEALTH NATIONS:
The plan at this stage is to have the top 8 Commonwealth Teams and the top 8 Transnational teams (this will be determined by close of play on Friday 16/2/18) to play off in their respective divisions. All players who have been eliminated are invited to play in the Weekend Matchpoint Swiss Pairs and/or the Monday Swiss at a discounted price and need only decide Friday. We will only accept entries into the Bobby Richman Pairs if they are registered in advance and paid in full as per our normal requirements. There is no discount for this event but we will cheerfully refund your money if you do come in the top 8.
It looks likely quite a few players will stay on to compete in the Gold Coast Congress which will really add to the buzz.
INTERNATIONALS REQUESTING SPONSOR:
There is a possibility Michael, Debbie and Kevin Rosenberg will be playing in the Gold Coast Congress. They would like to be sponsored so if you know of anyone who may be interested please let me know and I will put you in touch. I suspect there will be some flexibility here as they appear keen to come.
STARTING TIME 11 AM NOT 1 PM:
Please remember when booking your flights that you need to be at the table before 11am (Queensland Time) unless you are playing in the Weekend Swiss which does not start till 3.15pm (Queensland Time). This enables the Swiss to run alongside The Bobby Richman on Sunday with everyone starting and finishing at the same time.
ROOKIES/UNDER 50s:
Please encourage your club to promote this and to explain it really is suitable for people with very little experience and no master points. Most of our supervised play session from Kenmore Bridge sessions play and do well in the placings. This year we will even have a scheduled rest break of 10 minutes mid session for them. For a detailed list of all novice, rookie and under 50 masterpoint events refer
http://www.qldbridge.com/gcc/2018/novices.pdf. We can always find partners – just contact us or enter your request on our website partnership page.
ACCOMMODATION:
We have been told there should be no steep rise in accommodation costs so if you are told prices have gone up because of the commonwealth games please tell us so we can report them to council.
Entries are open so time to get organised – February will be here before you know it! Pele Rankin is our new Entries Co-ordinator. If you have any problems email Pele on gccentries@qldbridge.com or contact her on 0439949060 (M) or 737200369.
2019 DATES: For your early information – 15th February to 23rd February 2019
Cheers
Therese Tully, Tim Runting and Kim Ellaway