2nd Bangkok Bridge Festival Championships
April 5, 2014

-

April 9, 2014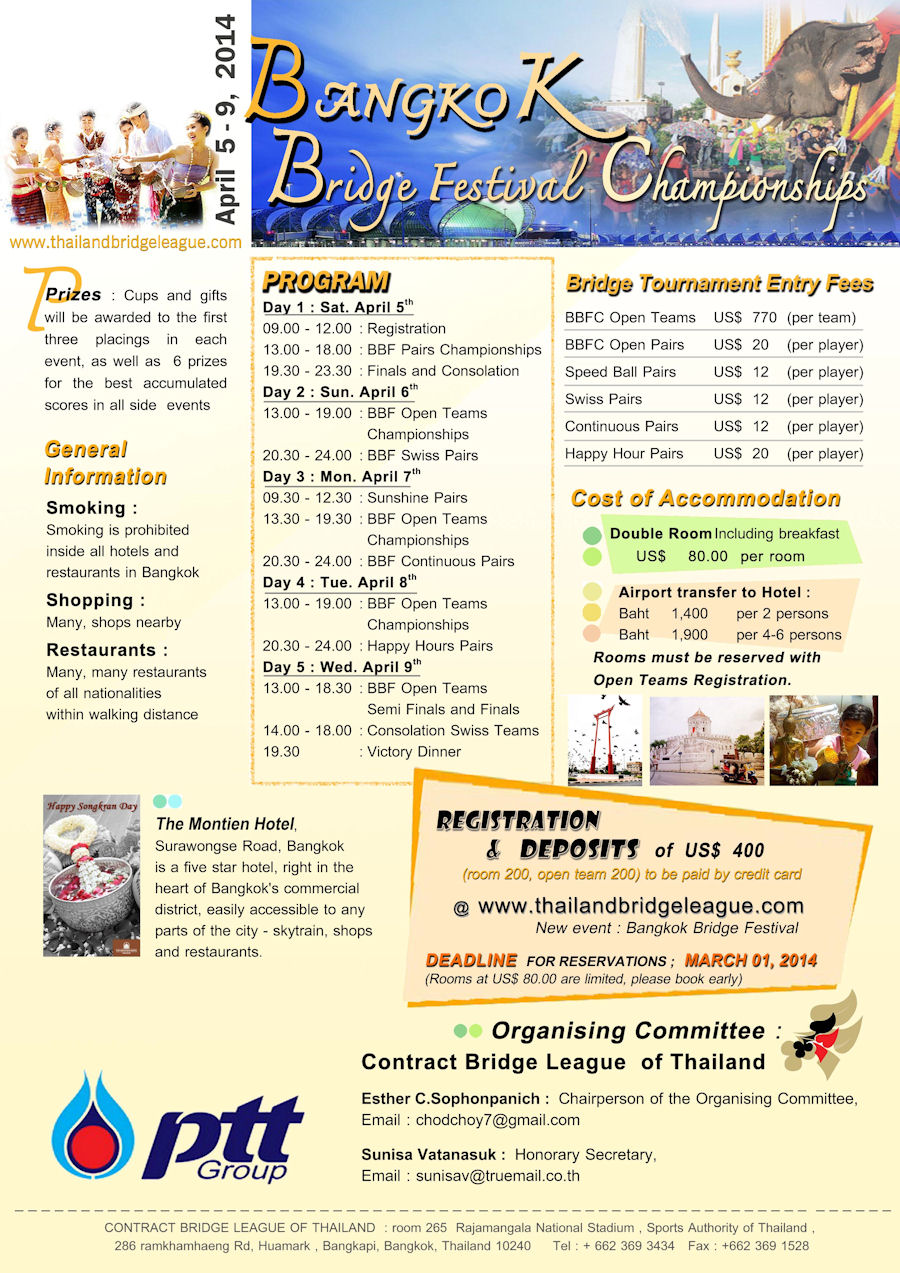 My dear friends…..
This is indeed a last minute announcement but prior to this, I did not know how the situation will be in Bangkok.. but now that all the protestors have confined themselves to the Lumpini Park, everything ..traffic, shops etc. have returned to normal.. life is pretty much as usual…
The Emergency Decree is still in, but really does not work.. if you are worried about travel insurance, we could buy that insurance for you at relatively low prices in Bangkok for the duration of your stay in Bangkok.
We would be happy to help book golf courses for any golfers as well !!
Please help to advertise our Bangkok Bridge Festival to be held next month
April 5-9,2014 as per flyer… prices here are very reasonable and I am sure the airlines will have special fares to Bangkok at this time. We do have some players from Poland, Japan, UK and Australia… but we will certainly welcome more…
Thanks and regards
Esther
To: APBF Contacts
Greetings from Bangkok, "The City of Angels".
We, the Contract Bridge League of Thailand, are pleased to advise you all that we  will be organizing our 2nd year of the Bangkok Bridge Festival Championships on April 5-9, 2014 at the Montien Hotel, Surawongse Road
Again, we will invite all bridge players of any level, any age, any rank from Thailand and overseas to participate.  We assure you that you will enjoy bridge games, warm hospitality, delicious Thai food, and also lots of shopping around the venue during your stay in Bangkok.  And if you stay a few days longer you can enjoy the Thai traditional New Year "Songkran Festival"  on 13-15 April also known as the "Water Festival".  The celebrations for the people joyfully splash water on each other.  The Montien Hotel will favor us for special room rates same as BBFC.
All of you are welcome to join the 5 unforgettable days as previous ones in January 2013.   Details of each day activities are described in the flyer attached herewith.  Please see the details and make reservations through out website at www.thailandbridgeleague.com.  Kindly publicize this news to all bridge members in your region who are interested to join us to get together and share wonderful memories of bridge games and friendships again in Bangkok.
If you need any further information, please feel free to contact us.  We look forward to meeting you all again.
Best regards,
Sunisa Vatanasuk
CBLT Secretary General