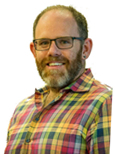 Will Jenner-O'Shea has recently been approved as the ABF's Online Teacher for Intermediate and Advanced Lessons.
There will be online lessons run a few times a month. You can view them by logging onto the MyABF site and searching for Congresses and filtering by Lessons.

Improve your Bidding After Minor Suit Fits
Saturday 25th June, 1PM Eastern, (12:30pm Adelaide / 11am Perth)
*Although it would be ideal to attend this workshop with your partner, you can attend on your own.*
How to find No-Trumps when your only fit is in a minor.
When to consider bidding to 5-of-a-minor instead of 3NT.
Which hands should look for slam in a minor.
Declare a variety of 3NT, 5C and 6C hands. Both you and partner get to declare every hand. You are never Dummy.
Book here: www.myabf.com.au/events/congress/view/312