The ABF Nationwide Online Pairs games on Sundays allows people to play against competitors across Australia and earn red masterpoints.
| | |
| --- | --- |
| | Sundays 2.30pm AEST |
| Open | to all ABF Registered Players |
| Restricted | less than 300 Masterpoints as of April 1, 2020 |
| Novice | less than 100 Masterpoints as of April 1, 2020 |
To play, both you and your partner MUST have registered your BBO usernames with the ABF.
Steps to registering your BBO username and entering
Check if your BBO Username is registered
These events will appear as: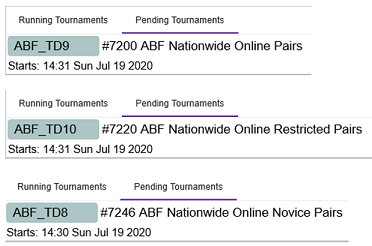 Both members of the partnership need to be active members of the ABF and on BBO at the same time to enter and they must ensure that they are back on-line at the scheduled start time, otherwise the BBO system will automatically exclude the pair.
Results for all ABF Nationwide Online Pairs
Any enquiries regarding this event should be directed to nec@abf.com.au