16th HCL International Bridge Championship
August 9, 2018

-

August 14, 2018

$US250.00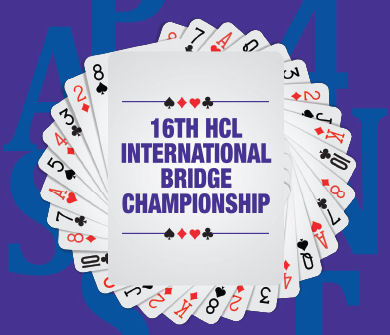 Dear Friend,
Greetings from India as we present to you the prestigious HCL International Bridge Tournament !!!
The Previous 2 editions have attracted a lot of renowned Foreign teams accross all parts of the world and we wish to have more players to come and enjoy our impeccable hospitality which has been UNIQUE as compared to all other major events. We would love to have your team here and enjoy the BIG PRIZES of US $ 270000 to be given to all merit holders.
LOTS OF PRIZES in TEAM and PAIR GAMES !! Come and Enjoy !!
Salient Features:
1) The entire event is from 9-14th August and the venue is near to the Airport.
2) Low entry fees with different categories which includes lunch, tea/coffee and snacks for all playing participants. Only 250 US $ ONE TIME FEE for entire team for all events played.
3) *Total prizes has been increased to US $ 270,000
4) Various options of 4 star property accommodation facilities available at SPECIAL RATES for our participants ONLY @ 80$ including breakfast and taxes
5) Easy Visa process for major countries.
6) The official website for this event is www.hcl-bridge.com
7) SPECIAL OFFERS for renowned teams.
The brochure is attached here for your reference.
Please forward it to your members and bridge friends and make sure to participate in large numbers. If you need any assistance related to visas, travel, accommodation you can write to me at cardpacker@gmail.com
Regards,
Srini