June 30, 1950 – June 7, 2013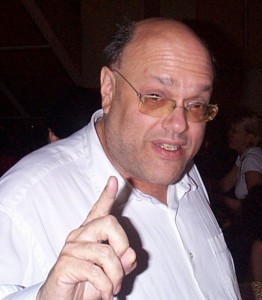 Bobby (Robert Alan Richman) was born on June 30, 1950, and died in his hotel room in Hong Kong on Friday, June 7, just before he was to embark on his quest in the Asia Pacific Seniors Teams. He is survived by his partner, Deb Guthrie and his sister, Mary Porath.
After high school, Bob went to Cleveland State University, and after some time began studying Chinese, which brought him to Melbourne for a year-long program.  After his return to the US, he decided that he wanted to come back and live permanently in Australia. In the ensuing years Bobby lived mostly in Sydney, but also spent some years in Melbourne.
He also managed to spend months at a time in the USA, visiting his mother and father, who passed away in 1999, and to be part of Mary's family with her husband Frank and her children Emily, Yasha and Libby.
Bobby was especially lucky to have found Deb Guthrie ten years ago and Deb made his life so much better. She gave Bobby love, affection and stability.  Maybe Bob did not say it often enough to Deb, but he did tell his friends how much Deb meant to him and how good his life had become because of Deb.
Bobby had never been happier.
David Stern: "Being a friend of Bobby's was an absolute privilege as well as being a sheer delight. When you met him for lunch or dinner he would always hold court with what had happened in his life – which was always amusing."
George Gaspar, a regular partner including for the Hong Kong tournament and a close friend, said that Bobby was a "unique, larger-than-life character, an exceptional friend and an extraordinary bridge player."  When you saw Bobby you smiled, as you knew that you were in for a good time with him.  He gave great delight to all who knew him.
To me Bobby was one of the most fascinating characters possible. One of the central aspects of his life was bridge. Bobby came into prominence in Australian bridge circles in 1972 when he was invited to be part of the Challengers Team with Ted Griffin and Alan Walsh against Tim Seres, Mary McMahon, Winsom Lipscomb, Dick Cummings and Roelof Smilde. The match was played at the University of Sydney's Law School and was packed out with bridge players.  Bobby's bridge partner in that match was Diana Leathart (now Diana Smart) and the system they played was known as 'Animal Acol'. The audience could scarcely believe the daring approach Di and Bobby used and that became his trademark for the ensuing 40+ years. 'Know no fear' was the crux of his bidding style, which was innovative, unorthodox, often breath-taking and usually successful. Bobby's card play was outstanding. When his bidding often left him in a terrible contract, seemingly hopeless, Bobby's card play would come to the rescue, salvage the situation and lead to success.
Bobby won countless tournaments not only at state and national level [a list of his successes can be found below], but he also tasted success in international events. He competed from time to time in major events in the USA and his expertise was highly regarded there. One measure of stature in the world of bridge is master points, awarded for a strong performance in a bridge tournament. Bobby was #1 on the Australian Master Point Scheme since 2009. He was Australia's first Emerald Master and there are only two others. His total points, 11,422.36, are about 850 points higher than the second Emerald Master. Gold Master Points are awarded for success in national tournaments and Bobby was also number one in Gold Master Points, 7349.95, some 1500 ahead of second.
Bobby had played in many countries around the world and had represented Australia more than twenty times in international competition. He was a feared competitor, but at the same time a considerate partner. Whether his bridge partners were strong or weak, Bobby always treated them as equals. He was courteous and never tried to humiliate a partner or belittle their efforts.
Apart from bridge Bobby also had a passion for movies to which he and Deb went frequently. Perhaps not known by all his friends, Bobby was an excellent swimmer and an accomplished ballroom dancer. He also liked to dine out, which he often did with various groups of friends. Bobby's incredible sense of humour, invariably self-deprecating, was never-ending. Bobby was highly intelligent and could keep his company enthralled for hours with his anecdotes and stories.
The bridge aspect of Bobby's life was most impressive and admired, but it was the nature of the man that we loved. He had an easy-going nature, would almost never take offence and never give offence. A measure of a man's character is the number of friends he has. I cannot think of one person who disliked Bobby. It was simply not possible to dislike him.  Bobby was a loyal friend and totally honest and trustworthy. If he gave his word, he always kept it. If he borrowed money, he would always repay it when he could. He would never break a commitment to accept something more lucrative subsequently. He would tell it like it was. He was always upfront with you.
Bobby was also generous. Khokan Bagchi recounted a story where he turned up at the Double Bay Bridge Club and Bobby lent him $300 so that he could afford to play. There was nothing in it for Bobby. It was just typical of his good nature.
To list Bobby's friends would take hours. All of us have our favourite Bobby stories and more than just one or two. Some of his escapades were legendary. You can find a host of Bobby stories in  the Tribute to Bobby Richman on Facebook (www.facebook.com/groups/430061497101250/). Bobby was a great friend. He enriched our lives when we were with him. He was one of a kind. We were all privileged to have had Bobby in our lives. We miss him more than words can say.

Bobby had a host of excellent hands and bridge ideas, enough that he could have written a good-sized book with them. Age had in no way dimmed his prowess. Bobby was a member of the 2013 NSW Open Team and the 2013 Australian Seniors Team for the world championships in Bali. In February, in the Seniors' Team Playoff, Bobby and George Gaspar topped the datums with a total of 202 Imps, 97 ahead of second on 105.
Here are some of Bobby's national and international successes:
In 2006 with Zol Nagy he earned a silver medal in the IMP pairs at the WBF World Championships.
Representing Australia:
Bermuda Bowl (World Open Teams): 1979 with Andrew Reiner, 1997 with Stephen Burgess, 1999 with Ishmael Del'Monte, 2003 with Matthew Thomson.
[At the Opening Ceremony for the 1979 Bermuda Bowl, a member of the Brazil Team came to the Australian Team's table and in the course of the conversation, said, 'You have come a long way to finish last!' Bobby loved the poetic justice that it was Brazil who came last. Australia finished third, the best placing we have ever achieved in the Bermuda Bowl.]
World Open Teams Olympiad (now the World Bridge Games): 2000 with Matt Mullamphy. Non-playing captain of the 1988 Open Team.
World Seniors Teams: 2009 with George Gaspar.
Asia Pacific Open Teams: 1979 and 1982 with Andrew Reiner, 1984 with Roelof Smilde, 1990 with Tim Seres, 1994 with Rob Fruewirth, 1999 with Ishmael Del'Monte, 2002 and 2005 with George Gaspar. 2007 with Zoli Nagy.
Asia Pacific Seniors Teams: 2008  with George Gaspar (1st); 2011 with Andy Braithwaite
Commonwealth Nations Bridge Championships: 2002 with George Gaspar.
Winner:
Open Team Playoffs: 1979, 1982, 1990, 1994, 1997, 1999, 2000, 2003, 2008
Seniors' Team Playoffs: 2009, 2011, 2012
Autumn National Open Teams: 1994, 1995, 1996, 2005
Australian Open Butler: 1982
Australian Open Individual: 1977
Australian Open Swiss Pairs: 1995
Blue Ribbon Pairs: 1980, 1984, 1985, 1986, 1991, 1995
Dick Cummings Open Swiss Pairs: 2004, 2010
Gold Coast Open Pairs: 1981, 1982, 1986, 1990, 1991, 1993, 1998
Gold Coast Open Teams: 1976, 1979, 1980, 1988, 1990, 1993, 1994, 1995, 1997
Grand National Open Teams: 2002, 2003, 2008
Interstate Open Pairs: 1976, 1985, 2000
Interstate Open Teams: 1972, 1976, 1978, 1979, 1985
National Open Teams: 1975, 1976, 1991
National Swiss Pairs: 2005
Northern Territory Swiss Pairs: 2012
South West Pacific Teams: 2007
Spring National Open Teams: 1989, 1998, 2004, 2008, 2012
Victor Champion Cup: 1982, 1985, 1986, 1992, 1994, 2002
Australian Men's Pairs: 1986, 1995, 1998, 2001
Interstate Mixed Pairs: 1976
National Youth Pairs: 1977
Bobby Evans Senior Teams: 2008
McCutcheon Trophy (most masterpoints in a year): 1976, 1985, 1995
Ron Klinger