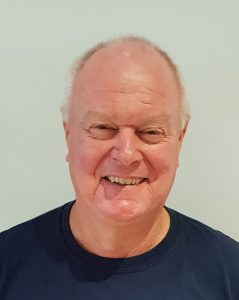 I was born in London, England in 1949 and emigrated to Auckland, New Zealand in 1957. My father tried to teach me bridge but I had no interest – I'd rather play poker! I went to university where they played lots of bridge so I had to learn to be in the 'in crowd'.
My first partner at Akarane Bridge Club (young people's club in Auckland) was Belinda Lindsay, who emigrated to Melbourne Australia soon after. For the next few years I plodded along with different partners in different countries.
I graduated PhD in 1974 in Chemistry and spent the next four years in Cambridge, England and Konstanz, West Germany on post doctorate scholarships. I returned to NZ in 1979 to lecture at Auckland University and eventually set up my own consultancy business in Auckland which I ran for 15 years before selling and purchasing a holiday apartment in Coolangatta, where I planned to retire for the cold winter months in NZ.
During this working period I was fortunate to play with several leading NZ players but it was in partnership with the great Lionel Wright that I made my breakthrough into international bridge. He rang me on Christmas Eve and asked me to play with him in Canberra's NOT and then the NZ trials! I had to work really hard from there and we won both events to make the NZ team to play the Bermuda Bowl in Perth. After that I played in NZ teams with Denis Humphries, Michael Cornell and Michael Ware before emigrating to Australia where I have played with the late Bobby Richman, Ian Robinson and now Arjuna de Livera in Australian teams. My main claim to bridge fame though is probably four wins at the NOT.
My other interests over the years have included soccer, where I played for several years at the top level before turning to refereeing, golf where I managed two under 70 rounds on a handicap of six and now lawn bowls where I am now chairman of the board at Coolangatta Bowls Club. I have represented the club in state events. I married Susie Moses in 2015 and we now live in an apartment on the beach in Coolangatta in a great retirement spot. I play bridge with her at the local Tweed club to keep my 'eye in'.
International Bridge Representation
1989 NZ Open Team – World Teams Championships, Perth
2009 Australian Seniors Team – World Teams Championships, Sao Paulo
2011 Australian Seniors Team – World Teams Championships, Veldhoven