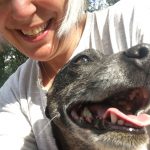 It was during a long, wet summer holiday on Skye in Scotland that my father, to assuage our boredom and internecine squabbling, decided to teach us bridge.
I was 5.
I played throughout my childhood and in a desultory way through my younger adulthood.
Living in various parts of the world and impeded by small children curbed my playing somewhat but returning to Scotland with the accompanying benefits of boarding school allowed me to return to the tables in my late thirties.
As an artist I spend all my time teaching and exhibiting and Bridge is my hobby which often takes up far more of my life than my paying job.
I am fortunate in having a husband who is an avid and far better player than I so we discuss and argue ideas, system and play constantly.
We live in Emerald in a garden of surpassing beauty with our cat, Sprout.
International Appearances
2018 – Commonwealth Nations Bridge Championships