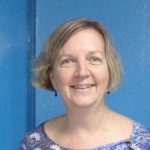 I grew up in Sydney with a bridge-playing family, having had our parents teach the three children to play bridge, so that we always had a "Bridge 4" available. I think I was about 7 years old when I learnt, but we only played at home until my brothers discovered bridge clubs and competitive bridge in 1973 and, on our first venture to Lindfield Bridge Club, Peter and Dad finished 1st and Mum and I finished 2nd – and we were hooked.
My first national tournament was Youth Week in Canberra in 1976, although I didn't get more serious about bridge until 1979. In February 1979, Peter and Kathy Buchen encouraged me to join them at the Gold Coast Congress. Playing with Peter Jamieson, we won the Gold Coast Pairs (with my 20th birthday being the first day of the competition). That year I also played my first Interstate Teams, winning the Women's Teams for NSW – and the next year I repeated the feat for South Australia.
I played so much bridge in 1979, although compared with today's glut of national tournaments, it really wasn't that much (!), that I finished the year with the most master points and won the McCutcheon Trophy. I was the first woman to win the title, and the youngest winner.
In 2007 I eventually returned to the Gold Coast Congress, after 28 years, and in 2013, my husband, Howard Melbourne, and I won the Pairs – a 34-year break between victories!
I first represented Australia at Women's bridge in 1981 at one of my favourite world championships. Playing behind screens for the first time was a fabulous experience – I love the fact that screens remove any element of partner's body language from decision-making. However, what I particularly enjoyed was the fact that halfway through each match we moved around the table, taking our direction with us but meeting the other opponent.
One of my proudest achievements was qualifying for the Australian Open Team in 1998, with Elizabeth Havas. We are the only women's pair to have represented Australia at Open bridge.
Since 2005 I have been working as a bridge teacher/coach/director, so now my life is dominated by the game I love so much.
I have played most, but not all, national tournaments with some degree of success in the various events. Fiona Brown (England) encouraged me to play with her in an English national tournament in 2016, and together with Howard and Gareth Hyett (England) we managed to win by 1 VP, despite a disastrous final match.
Away from bridge, I like to knit, do crafts, play games, read, swim and travel.
AUSTRALIAN OPEN TEAM REPRESENTATION:
APBF Championships 1998
AUSTRALIAN WOMEN'S TEAM REPRESENTATION:
WORLD CHAMPIONSHIPS
Venice Cup 1981, 1985, 1987, 1989, 2001, 2007, 2013, 2015, 2017
Olympiad 1984, 2004, 2012
ASIAN CHAMPIONSHIPS
APBF Championships 1981, 1985 (1st), 1986, 1987, 1989, 2001, 2003, 2013, 2015, 2017
OTHER
Commonwealth Nations Bridge Championships 2014, 2018
STATE REPRESENTATION:
INTERSTATE OPEN TEAMS
South Australia 1983, 1984, 1985, 1986, 1987, 1989, 2007
INTERSTATE WOMEN'S TEAMS
New South Wales 1979 (1st)
South Australia 1980 (1st), 1981, 1982 (1st), 1988, 2004, 2008
NATIONAL TITLES:
OPEN EVENTS
Open Playoffs 1998
Gold Coast Pairs 1979, 2013, 2016
Victor Champion Cup 1988
Barrier Reef Pairs 2009
WOMEN'S EVENTS
Interstate Women's Teams 1979, 1980, 1982
National Women's Teams 1984, 1985, 1987, 1993, 1996, 2000, 2001, 2003, 2013, 2014, 2015
Spring National Women's Teams 2014, 2015
Australian Butler Pairs 1985, 1986, 1987, 1988
(top 3 pairs) 1981, 1984, 2011, 2013
Autumn Swiss Pairs 2008, 2017
VCC Swiss Pairs 2006
MIXED EVENTS
Interstate Mixed Pairs 1984
National Mixed Pairs 2010
YOUTH EVENTS
National Youth Teams 1986
OTHER:
1979 McCutcheon Trophy (incl. first woman winner, youngest winner)
2016 ABF Honorary Teaching Fellow
OVERSEAS:
2016 English Summer Meeting – 4 Star Teams champions