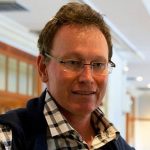 As a 5 year old, I spent the best part of a year in hospital where I played cards daily. My hospital hi-light was mastering of the poker school. It didn't take much encouragement to join the newly forming Brisbane Water Bridge Club in early 1975, the beginning of my bridge career. Throughout my bridge career, I've learnt the ultimate test is; to maintain your tempo, your concentration, and to execute your best game, impervious of the pressure or the situation.
International Bridge Highlights
I first represented Australia in the 1989 Pacific-Asia Teams (Jakarta). John Roberts was my partner in the 1995 World Teams (Beijing) and in the 1996 Olympiad (Rhodes). I was a finalist in the 2000 Olympiad (Maastricht), beaten by eventual gold medalists Italy, and 5th in the 2003 World Teams (Monte Carlo), again beaten by the eventual gold medallists Italy.
After playing in the 2005 World Teams (Estoril) I took a break from competitive bridge. Returning to competitive bridge in 2012, in partnership with Avi Kanetkar, I represented the Australian Open Team in the 2013 World Teams (Bali). In 2016 World Bridge Games (Wroclaw), I played with Cathryn (my wife) in the Australian Mixed Team. In the 2017 World Teams (Lyon) I partnered David Beauchamp in the Australian Open Team
My partners when representing the Australian Open Bridge Team have been: Peter Newman(Jakarta and Maastricht), John Roberts, Bobby Richman(Monte Carlo), Paul Marston(Estoril), Avi Kanetkar and David Beauchamp.