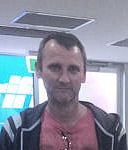 I first played bridge aged about 10. My grandmother who I lived with was fond of saying that if you could dance, play tennis and bridge you could mix in any circles.
When I first started University I neglected my studies horribly as a result of never leaving the lunchtime game of either poker or bridge. It was there that a fellow enthusiast told me that there were clubs for bridge players and not too long after that I ventured into the South Australian Bridge Association clubrooms and have never stopped doing that. I play at SABA at least once a week for the last 29 years.
Other than too many mentors to mention I would say that a regular rubber game with great South Australian players, Zoly Nagy and George Smolanko in the early 90's (where I started as the cash cow) was the time when my game got good.
I did eventually do enough study to get a law degree and practiced full time as a criminal and personal injury lawyer for about 15 years till the mid 2000's. At that time I struggled to find a fix for my second love, poker. As a result I discovered the internet poker boom and ceased full time work as a lawyer after it became apparent I could make a better living playing poker on-line.
After 5-6 years of full time poker the internet poker boom finished and having played enough poker for several life times I now only play in live poker tournaments about once a week. I have always maintained a practicing certificate as a lawyer and I continue to practice law albeit not more than say 10-15 hours a week. I currently specialize in compensation for infant victims of crime.
Other than bridge and a bit of live poker I have an ongoing interest in sports betting (I like to gamble).
I have never married but I have lived with this girl for around 30 years and we just seem to keep on doing that. Belinda and I have the complete set in Rebecca, aged 21 and Elijah, aged 18.
I am a slightly obsessive dog lover. Usually big dogs. After Memphis the Great Dane succumbed to old age we had Tennessee the Irish Wolfhound for 11 years until a few years ago. I still can't get family agreement on the next big dog (I want a Rottweiler – Belinda says they are "baby killers") so in the meantime we have downsized and now live with Linguine the miniature Dachshund.
I suppose the times I have played for Australia are highlights of my competitive bridge career although it is hard to beat winning an ANC title for S.A. I love playing the National Open Teams in Canberra every year and have never won that event. It will be a highlight when I finally get around to that.
What I like about bridge is a question that requires too long an answer. I like everything about bridge. Some of my best memories of playing occurred when partnering my 90 year old aunt in a regular Wednesday afternoon game at SABA. There was little if any mention of squeezes or endplays with most of the conversation concerning whether or not a blue rinse suited Doris.
International Appearances
2018: Commonwealth Nations Bridge Championships
2005: Bermuda Bowl