1909-1967
In the period before World War Two Norman Mussen was one of the greats of Victorian bridge in its heyday. He was born in Melbourne in 1909 to Gerald and Florence Mussen, younger brother to Gerry and Eileen.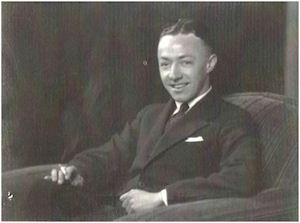 The name of Norman's father – Gerald Mussen – is not well-known these days but he was an important figure in Australian finance, industry and social and political thought over a thirty year period to the early 1950s. Born in New Zealand, he was a financial journalist and social theorist who promoted cooperation between employers and workers.
In the period before the First World War Gerald, was an advisor to Broken Hill Associated Smelters Pty Ltd. In this position, he attracted much interest across Australia by promoting the construction of community facilities in cooperation with the trade unions.
During the 1920s he played a similar role in Broken Hill in the development of miner welfare facilities and schemes. In later years he was a prominent and successful investor and company director. He was the main investor and driver behind the establishment of the Australian Paper Manufacturers pulp mill in Burnie in 1936, developed the early fish canning industry in Port Lincoln in 1937, and was President of the Federal and Victorian Citrus Association and a co-founder of the Adelaide News. He was knighted in 1939 and continued to publish his social theories in the 1950s.
Norman was sent to Wesley College aged about 8. Having never been in a church in his short life, he was soundly beaten by the headmaster on his first day of school for looking around during morning prayers. This unchristian act fortified the agnosticism subliminally instilled by his non-church going parents. He never became a believer.
After school he started studying engineering at Melbourne University, finally completing his degree after what family history records as six years of championship tennis, bridge, chess and riotous living. Dame Zara Holt recalled in her autobiography that "I was 16 and Norman Mussen was one of the several young men I was busily holding hands with. In spite of the depression he managed to be the proud possessor of a minute, broken-down bucket-seated Morris. One night he picked me up to take me to a dance at St. Mary's Hal, and although the car only held two people we also picked up another girl and finally at the corner of Toorak and St Kilda Roads, a young man I hadn't met before, Harold Holt. Norman and he were at Melbourne University together and somehow the four of us managed to pile ourselves into the car. Harold and I rather flamboyantly sitting on the hood at the back, me wearing Norman's top hat. Really and truly, men sometimes wore top hats in the evenings in those days, if they were wearing tails."
The evening did not end so well for Norman as Zara dumped Norman for Harold but there were no hard feelings and Harold was best man at Norman's wedding and he a principle guest when Harold and Zara reunited and married in 1946. She recalls that Harold later told her that after that night 'he had gone home very enchanted with her and decided I was pretty good and would do him for a few weeks".
Norman was one of Victoria's top tennis players, playing with the St Kilda club. In an era dominated by Harry Hopman, against whom Norman played on a number of occasions, he never won a State title but through the 1930s turned his attention more to doubles and won, with Miss M Cox, the Victorian mixed doubles championship in 1938.
Family history does not explain when or where he learned bridge. His older sister Eileen (Mrs I F Croft) was also a fine player and mainstay of the Victorian Women's teams, but family history is silent on whether the game was learned within the family. He certainly played at university where the bridge scene was dominated by fellow students Hal Oddie and Les Parker and the first record of his playing tournament bridge occurs in 1932 when he played with George Ewing (another long-term Victorian State representative).
Norman's peak years as a competitive player were between 1937 and 1946. He first played at SN Lythgo's Howey Court Club, then with Dorothy and Norman McCance at the Brompton Club before moving to Victor Champion's Kallara club becoming part of their A Grade pennant team and from there to the winning Victorian State teams in the 1938 and 1946 ANCs (no ANCs were held during the war years). Norman was a keen analyst and was absolutely in his element analysing the various local and overseas innovations of the period such as Secondary Asks, and Trump Probes. The group of leading players -Victor Champion, TH (Hal) Oddie, Les Parker, Alwyn (Al) Goldberg and Dudley Frankenberg (like Norman a State-level tennis player) were enthusiastic participants in post mortems after play which would go on to the early hours. They were all unbelievably competitive at and away from the table, Norman and another friend with time to spare even staged a race to find who was able to eat a liquorice strap with his hands behind his back. This event was refereed and timed!
This analytical leaning made him a powerful force in the popular par tournaments of the period (a contest where scores are based on what the setters of the hands consider to be the soundest contracts and play of the hand). He formed a partnership with Alwyn (Al) Golberg also from Kallara in 1937 and they won the 1937 Australian par tournament with what was reported as a "brilliant performance" in the last stage – reaching the optimum contract in 16 hands in a row – and which drew a lot of attention to their bidding system, loosely described as Culbertson with variations.
The system itself has now been lost but 'Quart-Major' (Will Boyce) in the Brisbane Courier-Mail commented that they had substantially improved Culbertson "with most excellent results. They play the asking bids, forcing take-outs, demand two-bids, four-five no trumps, grand slam force and the rest, but vary in the very important direction of their opening standards. In particular, their variation of the opening bid of one in a suit applies to such a large proportion of hands played when ordinarily dealt as to amount to a different system altogether. Their take-out doubles and jump overcalls are also modified and it will be interesting to see them at work [at the 1937 ANC in Brisbane]."
In the 1938 contest Norman teamed with Hal Oddie and came second but they won the 1939 tournament by a wide margin. Boyce commented in his bridge column that "the winners, Mussen and Oddie have a wonderful record in competition bridge and it is doubtful whether their present score which represented 82 per cent accuracy in bidding, leading and play has ever been approached before." He and Hal devised the hands used in the 1940 tournament, about which Les Parker commented in 1967, that "for their logical development and original thought remain a model for such a series today".
In 1938, Norman was part of the winning Victorian ANC team, playing with Hal Oddie, Al Goldberg and Les Parker. In Les Parker's view, "as a bridge theorist Norman had few equals" – but, as was the norm at the time, Norman placed great importance on manners at the table – "he was a delightful partner and opponent."
Unfortunately for such a great player, hardly any hands have been passed down to us. Les Parker recalled the following hand played in 1936 between Victor Champion's Kallara team and the McCance's Brompton team "perhaps the most spectacular hand ever played in Australia, possibly in the world, between two leading Teams-of-Four."
♠ 765
♥ AK743
♦ –
♣ KQ862
Dealer W
Vul: E-W
♠ KQ3
♥ 96
♦ AQT82
♣ J97
♠ AJT9842
♥ –
♦ KJ963
♣ 5
♠ –
♥ QJT852
♦ 754
♣ AT43
Table 1
| | | | |
| --- | --- | --- | --- |
| West | North | East | South |
| V. Champion | N. Mussen | TH Oddie | McCance |
| P | 1H | 2S | 4H |
| 4S | 5H | 5S | 6H |
| P | P | 6S | P |
| P | 7H | Dble | All pass |
Lead D6. All tricks taken.
Score to Mrs McCance +1330
Table 2
| | | | |
| --- | --- | --- | --- |
| West | North | East | South |
| E. Mussen | L.E. Parker | C.G. Watson | A.H. Goldberg |
| 1D | 1H | 1S | 4H |
| P | P | 5D | 5H |
| P | P | 6D | P |
| P | 6H | P | P |
| 7D | Dble | All Pass | |
Lead: HK. All tricks taken. Score to McCance team +1970
Total swing on the hand = 3,300 points
The second hand that we have was written up by Les Parker, Norman's partner of the time and is a hard luck story. To hold A Q J T 9 8 7 in trumps with five honour tricks outside would normally tempt one into slam -particularly when your partner holds seven honour cards – but Norman managed nine tricks only. The deal was:
♠ –
♥ KT542
♦ KQJ54
♣ AT6
♠ 6543
♥ T53
♦ 95432
♣ 2
♠ K2
♥ QJ94
♦ T6
♣ KQ873
♠ AQJT987
♥ A
♦ A
♣ J954
Because of the misfit Les and Norman settled in 5S but that was too many. West led the ♣2 to his partner's overall. A small club from the table was taken by East who who returned a club for a ruff. South was able to get in on the heart Ace, then leading ace and another trump. East won and gave his partner a second ruff in clubs for the fourth trick. Had North held but one small spade and South a small red card nothing could have defeated the grand slam. Les added that insult was added to injury by the remark of PT Hayter in the West seat: "I thought I held the beating cards."
Competition was suspended for the duration of the war. Norman was a member of the winning Victorian ANC team in 1946 (with Hal Oddie, Victor Champion and Charles Hickman) but, he was, for a number of reasons, not a prominent tournament player after that time. His health was part of the issue – he contacted TB in his thirties – but the larger factor was the development of his career in engineering and architecture. We know nothing about Norman's early career other than it was a long time incubating. In 1936 his occupation was still listed as 'student' in the electoral roll. This seems to have been something of a family tradition as his sister Eileen, seven years older than he, was similarly still a student in 1936. (She married Ivan Croft and is recorded in later Victorian teams as Mrs I F Croft)
In 1937 he had made the transition to work. In 1937 also he married Ruth Russell, a fellow student and sometime tennis partner whose ambitions of a degree were cut short by the depression and her father's financial losses. They remained devoted to each other until his death in 1967. Ruth's father, George Russell had started as a gun dealer and importer. During the First World War he was reported to own the British rights to an American invention which would send jets of water against the enemy through which an electric current was run. Unfortunately, the army declined to use the device on the grounds that in battlefield conditions it would not always be possible to guarantee an electricity supply and sufficient water pressure.
During the 1920s, George Russell significantly expanded the business into being one of Australia's major hardware retailers and wholesalers. A news report on a 1925 attempted burglary at the company's premises is an interesting insight into the 'wild west' aspects of Melbourne at the time. A caretaker hearing sounds from the building and seeing a man inside took a shoot first and ask questions later approach and fired his pistol at the man through the window. He missed and in turn was fired on by the man's accomplice who he had not seen. In the ensuing gunfight, the caretaker was wounded in the arm but the men escaped.
The family's Toorak mansion and Macedon summer homes were important social centres for Melbourne but the business was mortally wounded by the Depression. The business was finally wound up in 1936 after losing money for several years; the Toorak mansion was sold and part of the grounds sub-divided; and George Russell's antiques collection, regarded as one of the finest in the country was auctioned.
Once Norman entered the world of work, he seems to have established himself very quickly. We first hear of him as a consulting engineer through a letter written to the Argus in July 1940, beginning his passionate advocacy for innovation in building materials. He argued that the war necessitated a reform in building practices. In particular too much steel that could be better used in munitions was being wasted in building frames. Reinforced concrete was cheaper and saved two thirds the weight of steel required for a steel frame.
He announced in that letter that he would not be practising his profession as a consulting engineer during the war. However, he was rejected by the army on account of his tuberculosis and we do not know what he did do during those years. In 1945 he was listed with his father as a director of a new company – Electro Motors Proprietary Limited – and his occupation was listed as consulting engineer.
After the Second World War he formed an architectural and engineering practice with Keith McKay and Charles Potter, starting with an office in his house before moving to Latrobe St. During this period they were responsible for both the Boiler House, Australian Paper Mills (1954) and Hosies Hotel (1955), both much admired by architects today (who see them as fine examples of modernist buildings).
He lectured in structures at Melbourne University, studying architecture from which he never graduated as he was unable to sit for his own subject. For some reason he was not awarded a credit. He also designed the spire of St Patrick's Cathedral, the Russell St Police Headquarters and various other projects during these years.
Awarded the job of designing and building the John Curtin School of Medical Research in Canberra, Norman and Ruth moved to Canberra in 1953. He was hired to replace Melbourne's Head of Architecture, Brian Lewis (who set a precedent by being sacked) and found a huge H shaped hole in the ground as a basis for the design. Bridge was out of his life and dealing with academics proved a more tactical, challenging, competitive and complex task. The biography of Howard Florey, the driving force behind the school, recorded that Norman's appearance on the scene made a major difference but at some stage he also was sacked, but continued to work on the enormous project which was then nominally headed by his erstwhile employee John Scollay.
He was engineer for the Melbourne Art Gallery and Cultural Centre, working with Roy Grounds and with his former student, Roy's stepson Hamish Ramsay. His daughter recalls that "they were exciting times in Victorian architecture with Roy Grounds, Frederick Romberg and Robin Boyd among the innovative thinkers of the era. Everyone knew everyone and his professional life was very exciting."
During this time he continued to be a fine writer and proselytiser for change in his architecture and engineering. He appears again in an article in the Age in May 1951 pressing the obvious but so often ignored importance of siting of a house in the design phase. He argued that "correct siting of the house is the first essential.It does not cost a penny more to site the house on the block so that any view is caught by the right rooms; any sun is caught at the right times; so that the summer breezes are welcomed and the winter winds screened; and so on. Every house should be judged on these grounds. But where do most people site their house? Twenty five feet back from the street, main rooms to the front, regardless."
His primary concern was that he felt that the profession of architecture had taken a wrong turn. In 1952 in a series of lectures at Melbourne University he began with the statement that "ours is not a great age of architecture, and I think we all wonder why this should be". To Norman, the answer lay mainly in the way that architecture had separated from engineering. He pointed out "until the beginning of the 19th century the architect did all the job himself and was generally the builder as well. He decided the thickness of walls, the size of beams and posts, the construction of arches and and domes – he understood all the trades and crafts – he was appreciative of beauty. Wren was an example of this sort of architect."
During the previous century, though, the architecture profession had become a closed shop and separated itself from the engineers and now all emphasis was on the external look rather than the entire building as a work of art. "For man has senses other than his eyes. The scent of flowers wafting in through a window, a feeling of snugness around a fire, are quite as relevant to architectural vision as combinations of colours or textures. And it goes deeper than this, for there is something even less tangible . a consequence of men who knew how to build something they loved for something they believed in. I feel that these things have been forgotten in an urge to the photogenic."
He never did manage to tackle the closed shop of architecture or call himself an architect He studied architecture while teaching in the architecture faculty but never graduated as he was unable to sit for his own subject. Nevertheless, tributes from former students make it clear he was an inspiring teacher who opened new frontiers for a new generation of architects. He had the great teacher's ability to make everyone feel interesting and worthwhile and his students (now in their 70s) from his days as a lecturer were still delighted to meet the family and reminisce about him.
Kevin Borland in his book "Architecture From The Heart" paid particular tribute to Norman's contribution to his success, including the Olympic Swimming Pool in Melbourne. He wrote that Norman "had a completely different approach to teaching theory of structures, having us analyse the stresses in buildings rather than just using set formulae to design columns, beams and slabs. He also introduced us to the new construction of pre-tensioned and post-tensioned concrete. The lessons were crucial to their winning the competition for the 1956 Olympic Swimming Centre. Because of the continuing post war shortage of materials (which created criticism that building for the Olympics was taking away much needed materials from housing) the competition rules stressed the importance of finding ways to reduce the amount of materials in the building. Norman's theories which reduced the need for material by balancing forces were the basis of their winning design.
Norman had effectively given up bridge when he moved to Canberra but started to play socially again when his daughter Judy returned to Canberra from overseas. She recalls that "I had spent time overseas, learning a simple form of bridge in Canada. On my return to Canberra Dad was delighted to have an opportunity to take up the game again. Poor man. He and my mother played against my about-to-be husband and me. We all played appallingly" He devised and taught them a system whereby one's first bid at the 2 or 3 level indicated a shortage and which Norman's daughter Judy and her husband recall using to great effect in beating the Far East Bridge Champions while they lived in Taiwan for a couple of years.
Norman and Ruth also played regularly with great friends John and Betty Gorton, who Judy remembers as "being as bad as the rest of us. " John Treglown's biography of John Gorton tells us that back in the late 1930's "the Gortons' closest friends then were Ruth and Norman Mussen. Ruth . was a long-time friend of the Gorton family (she first met John Gorton when she was 14 and he was staying at their house with her brother). Her husband Norman, a structural engineer, was like John, a very competitive man, and they formed a spontaneous antipathy to one another on their first introduction. Gradually, however, they became warm friends, though they never ceased vying with each other in almost every activity." These activities included tennis, table tennis, a self-invented combination of 'ping pong golf' and finally Morse code that John Gorton was required to learn this prior to entering the air force. When Gorton was recovering from his war injuries, part of the rehabilitation was races with Norman down the drive of their property on pogo sticks.
It should be noted that, for people who had an above average number of Prime Ministers for personal friends, Ruth and Norman did not have strong political interests. The only reference to Norman's involvement in politics comes from a report on a rowdy but good natured meeting during his student days involving a visiting professor talking about communism. The report noted that after the meeting, the national anthem was sung by a section of the crowd led by "a Norman Mussen".
Despite his TB, he remained a devoted smoker. In the late fifties his health deteriorated and he developed emphysema. He felt terrible most of the time but, Judy recalls, "was much cheered by my brother's and my contemporaries, who loved him and visited him for intense discussions of everything and anything". He died on 29 April 1967.
---
This article owes much to Judy Jackson and other members of Norman's family for the personal recollections and photographs.