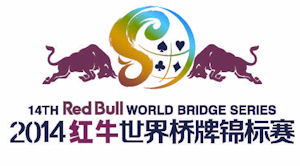 The 14th Red Bull World Bridge Series will be held in Sanya, Hainan, China from 10th to 25th October 2014 hosted by the Chinese Contract Bridge Association in cooperation with Sanya City and Beijing Lianzhong Co., Ltd.
The WBF President says that this exciting event will be a "real World Championship" and the WBF looks forward to welcoming players from all over the world to Sanya for the 14th World Bridge Series, to be held from 10th to 25th October 2014. We are sure that players will find Sanya a wonderful, never-to-be forgotten experience and we look forward to welcoming them to the Championships.
All entries to the Championships must be submitted electronically via the WBF Website (not by email).
Bridge players from all WBF zones are entitled to participate in the Championships provided they are members in good standing of a National Bridge Federation (NBO).
Entries should be made by 1st September 2014. However, late entries will be accepted if there is sufficient space at the venue.
For more information go the WBF website at
www.worldbridge.org/2014-world-bridge-series.aspx
and the local website at
www.2014wbsc.com