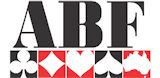 The ABF Management Committee has endorsed this logo as the one to be used for branding purposes in future. Please ensure that this version is used whenever the ABF logo is required in a document, website presence, app or publication.
Different sizes and filetypes are available at the location below.
www.abfevents.com.au/abflogo/
Contact the webmaster if you need a different size or type.