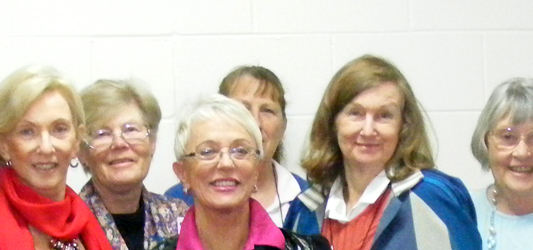 The three important objectives of the World Bridge Federation's Women in Bridge forum are to:
Help the women players who wish to compete in a National and International championships, giving them the opportunity to train, playing with their partners against players from all over the world.
Provide a social event with a good atmosphere;  and
Promote in general "Women's Bridge".
Further details about Women in Bridge can be accessed at www.wbfwomensbridgeclub.org or through Dianne Marler as Zone 7 representative to the WBF on the Women in Bridge Committee at womeninbridge@abf.com.au.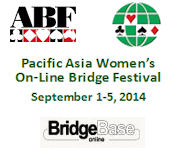 The Australian Bridge Federation is very pleased to announce the roll-out of the first Pacific Asia On-line Women's Bridge Festival to be held from Monday 1st to Friday 5th September 2014 on BridgeBase Online.
The Festival will include two 12 board tournaments a day over five days in a variety of formats – pairs, individuals, robots tourneys.
This event has been set up to capture all of those female players who reside in the Pacific/Asia rim.
Tourney Points will be awarded to the first three or four placed pairs/individuals in each event, with overall prizes being awarded to the individual players with the highest number of Tourney Points.
The World Bridge Federation have generously donated a prize of €500. This will be split across the three highest placed players. To be eligible for this prize, a player must have played in 4 of the 10 events. In addition to this very generous prize, the ABF, NZBA and Zone 6 will also be awarding prizes to their highest placed individuals.
ABF:

 Total prize pool  $1,200 to be used by the winners for entry into an ABF or ABF Licensed event

HKCBA: 

3 room nights (single or double occupancy) including 2 breakfasts, and a free entry to the Open Pairs as well as the Continuous Pairs at the HK Inter-city in 2015 to the highest placed Zone 6 pair.

NZBA

 have offered a prize to their highest placed NZ pair.
For more information go to: